Our strategy
Challenges to meet, opportunities to seize
The world is facing major upheavals: climate change, population growth, urbanization - to name just a few. This puts sustainability at center stage, with the circular economy becoming mainstream. All of these trends force entire industries to adapt. But at Covestro, we don't want to just adapt, but being a pioneer: We intend to shape our sustainable and circular future and be part of the solution to the challenges of our time. Our new strategy "sustainable future" paves the way. It comprises three pillars: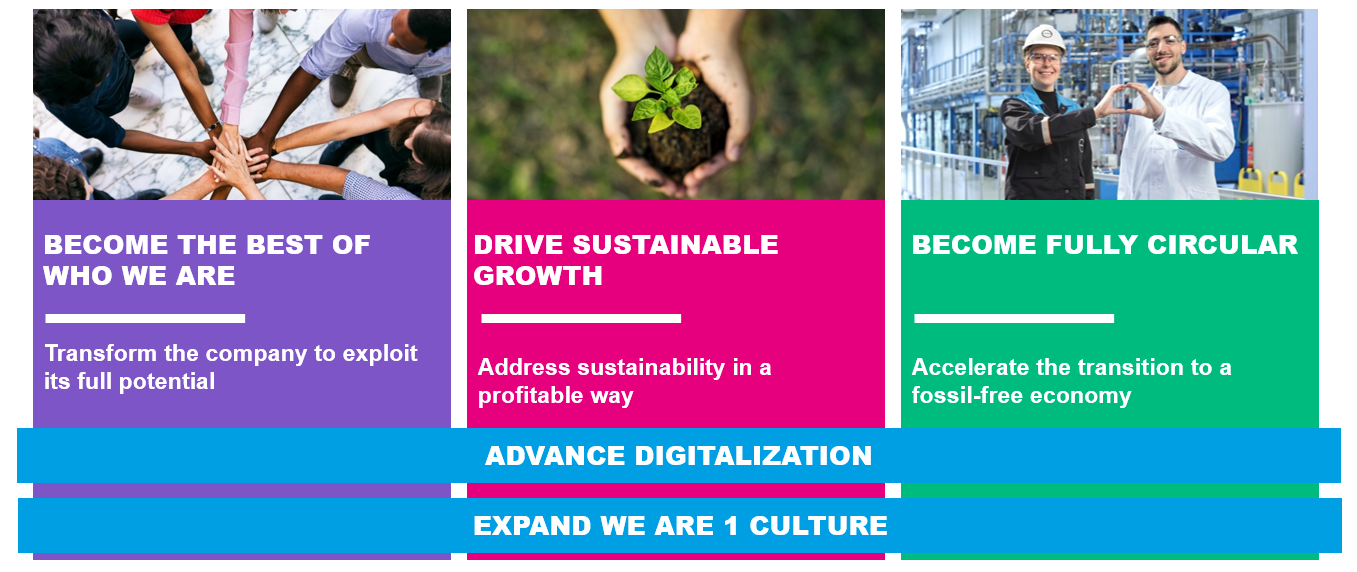 This strategy not only reflects our vision "we want to become fully circular", but also encompasses our purpose "We want to make the world a brighter place and adds tangible actions to attain these goals.
In the first chapter of the strategy "become the best of who we are" we focused our businesses even more closely on the requirements of individual markets and aligned them to a greater degree with our customers' needs. We put Covestro in the best possible position to reach its full potential. That's why we launched the transformational program "LEAP" in 2020 to completely redesign our structures and processes. As a result, our products and businesses are now organized according to customer needs and business specifics, rather than the chemistry behind it. Find more information about our segments here.
In the second chapter of the strategy, we want to "drive sustainable growth" We are combining the consistent alignment of products and processes with our customers' needs with an even sharper focus on addressing sustainability in a profitable way. To become fully circular and sustainable, we must remain profitable. Achieving organic growth means reinforcing our market leadership with sustainable products and solutions by continually aligning our R&D efforts even more closely with the United Nations Sustainable Development Goals (UN SDGs). It also means building and maintaining our assets faster and more cost efficiently, while engineering facilities for optimum efficiency and the lowest possible emissions. Sustainable growth also encompasses investments and acquisitions – if they complement our portfolio, help us reach our strategic goals, and are a good match culturally. A perfect example is the acquisition of the Resins and Functional Materials business of Dutch company DSM we closed in spring 2021.
The third strategic chapter includes our corporate vision: "we will be fully circular," our North Star for everything we do. This vision expresses our commitment to solving the pressing challenges of our time and helping pave the way to a climate-neutral economy that conserves resources. The chemical industry in general and Covestro in particular manufacture the precursors for the modern world. Our circularity will have a positive ripple effect across value chains. Reaching this goal will require us to rely even more heavily on renewable energy for our operations. We aim to switch our raw material base away from fossil resources and toward renewables. Our innovative recycling technologies will also help ensure that no plastic is ever treated as waste and discarded inappropriately. Since no single entity can become fully circular alone, we also need strong partnerships and alliances, which we will seek out, pursue, and nurture.
Three chapters on a strong foundation
These three chapters stand firmly on the foundation of an ongoing digital transformation and our strong "We Are 1" corporate culture. Digitalization will affect everything from the way we work to how we serve our customers, from the maintenance of our plants to research and development. And without our strong, diverse, dedicated workforce acting as "1," none of these things are possible. That's why we are committed to promoting our culture throughout the Group so that we can execute on the promises of our strategy.