Our structure
Seven entities with a clear focus
As of July 1, 2021, Covestro's business structure has been realigned. The former three segments Polyurethanes (PUR), Polycarbonates (PCS), and Coatings, Adhesives, Specialties (CAS) have been restructured to form seven new, tailored business entities. We now have focused our businesses even more closely on the requirements of individual markets and aligned them to a greater degree with our customers' needs.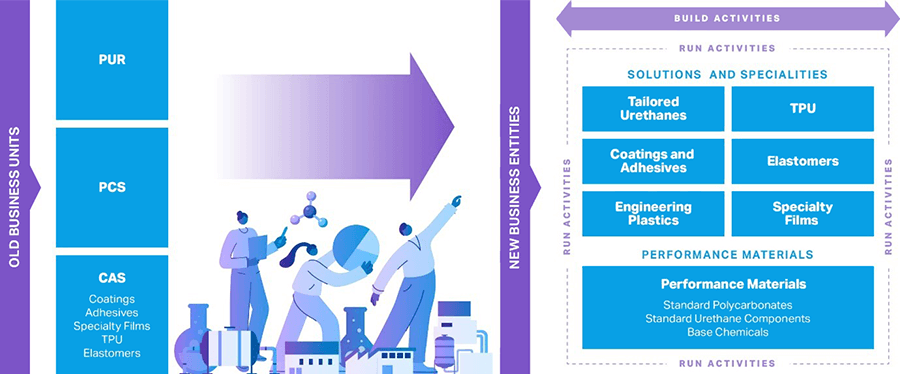 We distinguish the two segments "Solutions & Specialties" and "Performance Materials."
Solutions & Specialties: This segment comprises the six business entities Tailored Urethanes, Thermoplastic Polyurethanes, Coatings and Adhesives, Elastomers, Engineering Plastics, and Specialty Films. The focus here is on complex products with a high pace of innovation, which Covestro combines with application technology services.
Performance Materials: This business entity forms a separate segment comprising businesses with Standard Polycarbonates, Standard Urethane Components and Base Chemicals. The focus here is on reliably delivering standard products at competitive market prices.
Our products and services are therefore no longer grouped by chemical but instead by the underlying business specifics and customer needs. In its new structure, Covestro has organized the seven business entities in a setup based precisely on their individual success factors and integrated all operational activities throughout the value chain that are critical to success into these new entities.

We moreover consolidate certain cross-company 'build activities' on a corporate level to ensure our long-term development. These include, among others, sustainability, innovation, digitalization, and strategy.
This organization now forms the foundation for further implementing our strategy and achieving sustainable growth while realizing our vision to become fully circular.